'New Account' Playlist (KANM 99.9 FM)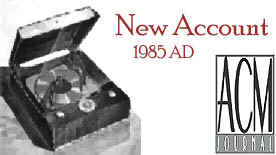 An alphabetical list of artists featured on www.Live365.com
[as broadcast live in 1985 on Texas A&M University's Student-run Radio Station]
AD
Alarm
Barnabas
The Call
Steve Carl Band
The Choir
Bruce Cockburn
Crumbacher
Daniel Amos
Daniel Band
Edin-Ådahl
Paul Field
Fireworks
First Strike
Rob Frazier
The Front
Pam Mark Hall
In 3D
Ipso Facto
Kajagoogoo
Kansas
Phil Keaggy
Robin Lane
Le Roux
Liberation Suite
Kerry Livgren AD
Andy McCarroll & Moral Support
Tim Miner
Michael Omartian
Charlie Peacock
Petra
Philadelphia
Leslie Phillips
Prodigal
Quickflight
Ressurection Band
Cliff Richard
Scott Roley
September
Servant
Seventy Sevens
Stryper
Donna Summer
Talking Drums
Steve Taylor
Techno Twins
U2
Undercover
Vector
Sheila Walsh
Weber and the Buzztones
Whiteheart
Youth Choir



If it can go wrong...it will




I had problems from the start. After recording most of the material (over a hundred hours) into the computer, the hard drive seized up and had to be fixed - two different drives! The first one I just replaced with restoring files because I had a backup. Then the backup failed before I had another copy saved elsewhere. That set me back a few weeks...



The source material was on cassettes. Some of the tapes had nasty dropouts in spots. Tape hiss. Turntable rumble, And broad spectrum noise - not sure where that came from. And with many of the tapes I had engaged dbx noise reduction. That was thinking ahead - except I didn't have a deck with dbx any longer to decode the noise reduction. Hello eBay and a dbx 224x encoder/decoder.




Then I had to get my records out to find the titles that on cassette were interrupted when switching from side A to side B. Most I had in a box. But what about the ones that were from a record borrowed for the show twenty-five years ago? Check out the Finding the Music' for tips on locating those really obscure titles and plan on spending a fair amount of time on the internet and a few bucks.
mp3, id3 tags, and animated gif's




After some testing, I determined that 64k mp3Pro sounds about as good as 128k when the source material is cassette. I used iZotope RX to remove many of the artifacts from the source material (clicks, pops, hiss, and broadband noise) and ProTools to create the most natural sounding mp3's I could muster. ProTools was also essential for splitting the program into segments of one to three songs. Despite much research, I failed to find any way to generate and display an id3 tag longer than 50 characters. Splits were made based on where natural song breaks occured subject to the apparent 50 character restriction.
Song mixes tend to be from different artists and labels and the id3 fields have to be separated with a '/'. But how do you display something to visualize the combined song/artist/album mix? For that I created animated gif's that roll from album to album with a 7.5s increment and then looped. Photoshop Elements does this easily enough. You will also need to host the animated image somewhere and link to it for display. www.1and1.com offers inexpensive web hosting and domain registration if you need to set up a website for this.

Finding the music




It should be as simple as a search in Yahoo or Google, but many of these titles are so obscure a far more exhaustive search is often necessary. Even then, it could take months (or years) before some titles surface. Listed below are some of the resources I've used to find missing titles - often an LP or 45 that I borrowed for a show in the mid-eighties and need in hand to ensure my Live365 program meets or exceeds any licensing requirements now or in the future.
eBay
Pay special attention to grading comments here. You may need to create a saved search to alert you when the title is listed. If you find what you're looking for, check the completed listings to see what the going rate for the title has been recently.

amazon.com
The more mainstream and collectible titles are often listed here. You might also check out listings from neigboring countries (http://www.amazon.co.uk or http://www.amazon.co.jp for example) if the artist is from a different geographic region or was distributed more widely in a different market. http://www.amazon.com

Music Stack
3500 independent record stores raises the possibility you'll find what you're seeking. I couldn't find a copy of the Steve Carl Band anywhere until I found this site - and that includes every other source listed here and all search engines. http://www.musicstack.com

Discogs
Not the most intuitive search tool out there, but a great source for searching and finding. 3 million records and cd's from over 10,000 sellers. http://www.discogs.com

Gemm
Another excellent source that is a database listing 30 million records and cd's from thousands of sellers. http://www.gemm.com
Preparing the music for hosting




Setting up a station is relatively easy once you've remastered the breaks between sides A & B and diced the program as described above. First, you'll need an image for your show and broadcaster profile. These are 300 x 200 in a landscape orientation. Photoshop Elements is great for manipulating images and does a great job scaling images as needed. Take a few minutes to write a few words about your show and a broadcaster profile too. These can be edited later, but start with something. This is a great place to mention your webpage if you have one - and perhaps a few links and sites to direct your listeners to.



Then convert the diced .wav files into MP3pro using an editor like Nero. That gives you the most control over the settings for the desired audio quality. You will also need to provide mp3 tags using an editor like 'MP3tag' based on the filename if you were clever. If not, plan to do some typing...



These can then be uploaded to to live365, as an example, using their 'Studio 365 Loader' without additional conversion required. Once uploaded, the song details need to be reviewed and graphics linked if that is important to you. The songs also need to be ordered in a playlist to match your original show sequence.

Conclusion




That's it. Of course you should start setting aside your pennies to pay for your hoted station when that bill resurfaces. Get the word out about your station to share with listeners too. Marketing is a discussion for another time...